Today, The Federal Communications Commision, led by Chairman Ajit Pai, decided to remove Obama-era consumer protections and regulations on the internet.  You may have heard on the news in recent months that Net Neutrality was going to be repealed. مواقع رهان Let's discuss what exactly Net Neutrality was, what it did, and what it going away means for you and your business' website.
What is (was) Net Neutrality?
Net Neutrality is the basic principle that prohibits internet service providers like AT&T, Comcast and Verizon from speeding up, slowing down or blocking any content, applications or websites you want to use.
In 2015, millions of activists pressured the Federal Communications Commission to adopt historic Net Neutrality rules that keep the internet free and open — allowing people to share and access information of their choosing without interference.
These rules were put in place in late 2015 as a way to prevent the internet companies from slowing down or blocking access to sites that can't pay them a fee. As a response to consumers "cutting the cord" and getting access to content like Netflix rather than through cable, ISPs were losing billions.
So now with Net Neutrality knocking on Death's door, all of the internet providers now have the power to charge the consumer AND the websites more money to access the necessary websites they need for work and entertainment. Those that do not comply, might be lost on the web unable to access those sites without paying massive fees and charges.
What Does This Mean For Your Business?
Let's say you are selling a product and that product needs to be advertised online. شرح 1xbet Your options are fairly limitless right now, you can run pre-roll ads on YouTube, banner ads on Facebook or search ads on Google. Without Net Neutrality, the access that consumers have to view those websites might be severely impacted and thus lower the eyes on your ads.
If you run a website for your business, Comcast might send you a letter saying that you are going to be charged to keep your website on the "preferred" internet package, otherwise it will be blocked. You get the same letter from Verizon, AT&T etc… Eventually it becomes too much of a hassle to run your website because it costs more to operate than you get in return from online purchases and enquiries.
It's thanks to Net Neutrality that small businesses and entrepreneurs have been able to thrive online. سباق الحصان Without Net Neutrality, internet companies will exploit their gatekeeper position and destroy the internet's fair and level playing field.
Now What?
The future of Net Neutrality now falls on the hands of Congress and the courts, make sure your voice is heard:
Our society's inability to unplug from technology and demand for instant gratification mean the attention and time we can dedicate to even the simplest tasks are decreasing. Even reading factual articles on the Internet is too time-consuming for us! Content shock, as we touched on earlier, is a phenomenon where readers skip reading articles in full because they are bored, busy, or disinterested. So how do we present information to readers that interests and helps them learn? Enter infographics: content that combines text and graphics into one. كيف تربح المال من الانترنت مجاناً Could infographics solve the problem of content shock, or is it just a temporary fix to our society's short attention span?
Visualize
Content marketers and companies alike create infographics to convey boring material in a quick, creative and meaningful manner. According to Social Media Consultant Mark Smiciklas, infographics are "a visualization of data or ideas that tries to convey complex information to an audience in a manner that can be quickly consumed and easily understood." Remember the five senses: feel, smell, see, hear and taste. All 5 senses transmit information to the brain, but 90% of that information is visual! In an average day, a person is exposed to 174 newspapers full of information, with only 1% of that information getting through to the brain. Why is this, you ask? The brain processes images simultaneously and text sequentially, meaning that visual stimuli makes it to the brain much more quickly than textual stimuli. To be specific, the brain processes visual stimuli 60,000 times faster than text. Additionally, Google search volumes for "infographics" have increased by well over 800%. I prefer to think of infographics as children's books for adults: mostly picture accompanied by minimal text. We teach and treat children as visual learners, so why can we not do the same for adults?
Inspire
Great infographics inspire emotions – be it happiness, sadness, wonder, or surprise. Great infographics use challenging content, tell a story, take your readers on a journey, or provide readers with a fresh point of view. As a marketing tool, infographics are viral magnets. They are easy to share due to their attractiveness and versatility across social media platforms including Facebook, Twitter, and Pinterest. Because of their viral magnetism, infographics are helpful to your webpage's SEO and can ultimately help rank your website higher on Google's algorithm. You can also easily increase brand awareness by simply placing your logo on the infographic. موقع مراهنات Placing your logo on the infographic allows you to position your brand as an expert of the topic you are explaining. العاب كسب المال If you are not creating your own infographic but simply sharing another's, you can use the infographic to add value to your content. Just be sure to give credit where credit's due, which may include the author's name, website, and a link back to the website or place of origin.
Learn
Research done by Barbara Miller and Brooke Barnett of the Newspaper Research Journal showed that combining both text and graphics is the best method learning information. Their summary stated:
"On their own, text and graphics are both useful yet imperfect methods for communication. Written language allows an almost infinite number of word combinations that allow deep analysis of concepts, but relies heavily on the reader's ability to process that information. Graphics may be easier for the reader to understand but are less effective in communication of abstract and complicated concepts. … combining text and graphics allows communicators to take advantage of each medium's strengths and diminish each medium's weaknesses."
Think of your favorite children's book growing up; it probably had tons of pictures and illustrations. Children books feature a combination of text with illustrations because the combination of the two media helps children understand and mentally visualize the story they're being told. Children have more active and wild imaginations than adults, yet as we age, we find ourselves referencing and learning from text-dense material rather than a combination of pictures and illustrations. In the case of adults, you would think that with a less wild imagination, you would need more imagery to explain concepts. Infographics prove that the adult brain still prefers to learn with a combination of imagery and text than with text-dense information alone.
Research
Beyond having great content and imagery, you must always do your research before creating an infographic. Assuming you want to appear as an expert in your field, it is essential to provide your readers and customers with accurate and up-to-date information. Use multiple sources, but not too many, to gather your data: too much information can fatigue or disinterest your reader. Additionally, use multiple sources to check the accuracy of your information. Include plenty of statistics in your infographic; pie charts, bar graphs, line graphs, and percentages accompanied with images help clearly illustrate statistics and other complicated pieces of information.
Create
Not every company or business has a graphic design department that can readily turn out great infographics. As a content curator, your biggest challenge is not finding content, but rather finding a way to present it to your audience that is both exciting and informative. Fortunately, Peak Seven's team of dedicated designers can make your infographic dreams become reality. Infographics allow endless possibilities for presenting dense information to readers in ways that are interesting, meaningful, and easy to understand; Peak Seven helps you master these obstacles while helping you stay true to your brand. As 65% of the population are said to be visual learners, we should be presenting information to readers that interests them and helps them learn, not information that exhausts and bores them. Think you're ready to get started on your own Infographic? Reach out to Peak Seven today, and check out some of our recent info graphics below for Skypatrol.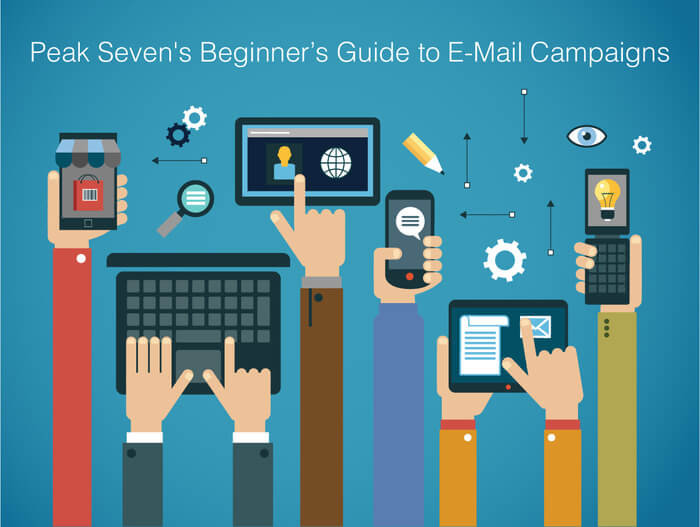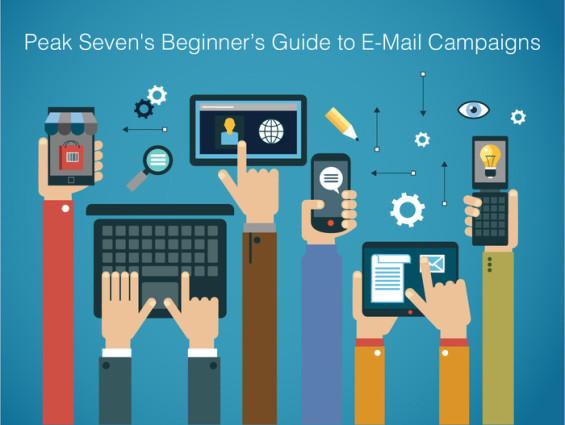 We've heard that orange is the new black, 90's fashion is back in style, and everybody's juicing. These days it seems that everything we once knew to be true is being replaced by new and shiny trends. But does that mean social media is replacing email as the #1 direct marketing tool? According to CopyBlogger.com, no. We read their latest e-book "EMail Marketing" for further insight.
E-Mail vs. Social Media
The good news is that today email is still the #1 direct marketing tool. Even with the 1.13+ billion monthly users on Facebook, only 664 million of these people are logging onto Facebook on a daily basis – meaning that more than half of Facebook users are missing content and material in their newsfeed. The status update that you so cleverly crafted is buried after only a few moments under newer, more relevant information from other Facebook users, making it easy for you to miss your target audience.
Unlike Facebook, 9 out of 10 people check their email on a daily basis. That marketing eblast that you sent over the weekend to your consumer on vacation will still be there when they decide to check their email first thing Monday morning. But how can you ensure that people read your email?
Content is King
Providing your readers with valuable content is the MOST important aspect of email marketing campaigns. After all, why do you think they signed up for your newsletter? Don't push your business onto the consumer. موقع رهان كرة القدم Don't overload your emails with too much text or too much information. View your e-blasts or newsletters as a recipe for success for readers, and breakup said recipes into 7-10 steps. Each step should be valuable and be completed by itself so that readers can reach success through your campaign step-by-step.
Attention-Grabbing Subject Lines
You will need a good subject line to get your audience's attention. Play around with different titles, and even push the envelope using words that can normally redirect your message to spam, as long as the content is truly valuable to readers (i.e. "Make Money Doing *Action Here*). The best subject lines are short and to the point and solicit a reader's interest.
Segment and Engage Your Readers
Reader segmentation can ensure a successful email campaign. Not all readers should be treated equal. For example, if you have a lifestyle blog with an e-newsletter, some readers may only want to receive emails with content about restaurants and nightlife while others may prefer only fitness and health information. It is important to give your readers the option of what content they can receive, as well as the frequency.
Reader engagement is dependent on the time and day on which you send an email. Contrary to belief, there is no universal time or day of the week that is optimal. الرهانات Depending on your audience and multiple rounds of trial and error, you can engage what time of day and what day of the week results in the most opens, click-throughs, and sales. Tracking these aspects, your emails will help you determine the optimal time for your audience.
Tone Selection
You will also need to set your tone. Find a happy medium between casual and informative, as readers respond best to a friendlier tone. الكازينو You want your reader to feel as if they are a valued individual that is part of a community, not just another face in the herd. Encouraging social media interaction amongst the company and readers reinforces a sense of community, as does including customer testimonials.
Format for Mobile Devices
Formatting your emails to be friendly for mobile devices and tablets is crucial; this is "Responsive Design." Nothing is more discouraging to the reader than opening an email, only to find a distorted text and images on their screen. While your reader may open the email, the click-throughs and conversions will not be nearly as high because they cannot engage with the content.
The Call to Action
Lastly, if you are seeking engagement from your readers, whether it is to download an e-book, buy merchandise, or to sign up for another email list, put your call to action button (CTA) at the bottom center of the email. This way, when the reader finishes with the newsletter, they can click and engage your CTA immediately.
Email is one of the most valuable assets a business has. Putting together an e-newsletter can seem daunting, but if you follow these simple guidelines, you are already setting yourself up for success. What are you waiting for? There are thousands of hungry readers waiting for your content!

150 East Palmetto Park Rd.
Suite 800
Boca Raton, FL 33432

621 Kalamath Street
Suite 135
Denver, Colorado 80204

15476 NW 77TH CT,
Suite 318
Miami Lakes, FL 33016
lest's Chat
Privacy Policy: By filling out and submitting this form, you are giving consent to receive communication from Peak Seven in the form of email, text, phone, and mail. Your data will only be used by Peak Seven. We will take all the steps reasonably necessary to ensure that your data is treated securely and that no transfer of your Personal Data will take place to an organization outside of Peak Seven's companies. We use cookies and similar tracking technologies to track the activity on our Service and we hold certain information. No method of transmission over the Internet or method of electronic storage is one hundred percent secure. We strive to use all commercially acceptable means to protect your Personal Data. You may unsubscribe at any time.
---