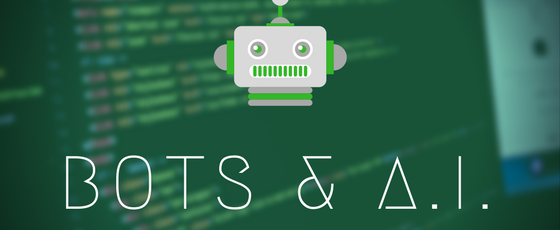 A.I and Bots on the Internet
Written By Ryan Haft - December 19, 2017
Robots in Media
Robots have been a part of human culture for a long time now. In fact, the first time someone said "robot" was in 1921! Robots are still a huge part of our lives today in all media especially in  movies like Star Wars: The Last Jedi and now we even find robots in our homes thanks to smart speakers such as Google Home and assistants like Siri. Today, let's talk about some bots we can't see directly, but that probably effect us more than any bots we actually recognize. Let's discuss a certain kind of internet bot: the algorithm.
A.I. on the Web
Remember during The Social Network (2010) when Mark Zuckerburg got drunk and started writing math problems on his college dorm window? What he was doing in that scene was coming up with the foundation for the algebra he would later use in his algorithm for finding friends on Facebook. An algorithm is "a process or set of rules to be followed in calculations or other problem-solving operations, especially by a computer." We encounter algorithms everyday  when surfing the web and we may not even realize it. On YouTube, a bot is in-charge of deciding which videos hit the Trending page or even how likely an ad will play on that video. Google's algorithm decides which ads are displayed on it's homepage per search. All of these are examples of Artificial Intelligence or A.I., for short.
How Bots are Made
A.I. is what makes the modern internet work and is how we as humans can communicate effortlessly all across the globe in milliseconds. So how do the bots actually even work? Well in the simplest terms it's a bit of a mystery as each internet company builds their bots from scratch in an effort to do a task and none of the companies are going to give away their secrets anytime soon. What we do know is how a bot is built and what that means for how they operate online.
Bots are created instantly and infinitely, each with slight changes, and are tested to perform a simple task, like recognizing a certain word or an image. All A.I. in a set are given basic instructions in code and guidelines in the form of human knowledge, then they are tested on that information. Those bots that score the highest are copied and altered for the next round of testing and the failure bots are discarded. The process repeats itself until a single bot is chosen that can most accurately and almost perfectly do that task. All the companies who built the bots are left to do is trust the process until a better bot is created. This is the algorithm for making a bot that does what you need it to do.
Stay Tuned for More!
In a future blog we'll discuss how these algorithms and A.I. robots can aid your business if you wanted to build your own and will take you step-by-step in that process. Stay tuned! In the meantime, check out this informative video by CGP Grey for more on bots and A.I.
Sources:
http://www.cnn.com/2013/12/19/tech/innovation/robots-pop-culture/index.html
http://www.imdb.com/title/tt1285016/
https://www.merriam-webster.com/dictionary/algorithm
comments powered by

Disqus
Share