Lifestyle Media Group Features Darren Seys, CEO/Creative Director At Peak Seven Advertising, In November's – "Who's Who In Home & Design 2020"
Written By Andres Mendez - November 10, 2020
Who's Who In-Home & Design, 2020
If you haven't had that chance to read through this month's edition of Lifestyle Magazine by Lifestyle Media Group, we encourage you to check out a great feature of Darren Seys, CEO/Creative Director at Peak Seven Advertising. As a full-marketing advertising agency that specializes in real estate, we are incredibly proud to be highlighted in this exclusive piece.
We have an unmatched set of real estate clientele on both coasts of Florida. Also, we market more than 50 apartment buildings across the country, giving us the knowledge to help make effective marketing decisions.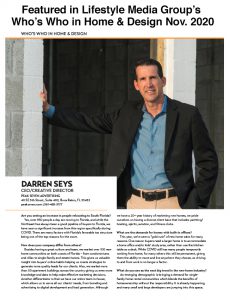 How We Differ From Other Agencies
We go above and beyond in our delivery by using advanced techniques and next-level marketing practices. Our team is made up of results-driven marketers and award-winning designers to ensure the highest quality outcome.
Although we have 20+ years of experience successfully marketing new homes, we pride ourselves on having a diverse client base. From yachting to spirits and aviation, we help clients reach their full marketing potential
With Darren Seys as our leader, Peak Seven has been year after year a constant marketing force within the real estate industry in South Florida.
CLICK HERE TO READ FULL INTERVIEW
comments powered by

Disqus
Share