Boca Magazine Features Darren Seys, CEO/Creative Director At Peak Seven Advertising, In February's – "Ask The Experts 2021"
Written By Andres Mendez - February 15, 2021
Ask The Experts, February 2021.
Boca Magazine had the opportunity to speak with an exclusive group of professionals to learn about what inspires them to do what they do so well. Among those experts was Darren Seys, CEO/Creative Director at Peak Seven Advertising in Boca Raton.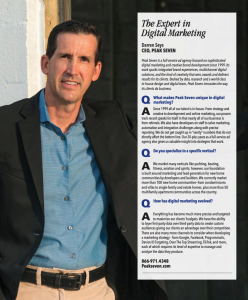 The Expert in Digital Marketing.
Peak Seven Advertising goes above and beyond in its delivery by using advanced techniques and next-level marketing practices. Led by Darren Seys since 1999, our team is made up of results-driven marketers and award-winning designers to ensure the highest quality outcome.
We specialize in maximizing our client's budgets through a unique approach developed by our in-house team of experts. Our ability to layer first-party data over third-party data creates a competitive advantage to our clients over their competition.
CLICK HERE TO READ FULL ARTICLE
comments powered by

Disqus
Share