The Boca Raton Observer Magazine Features Darren Seys, CEO/Creative Director At Peak Seven Advertising, In June's "Power Players 2021"
Written By Julia - June 18, 2021
Power Players, June 2021.
The Boca Raton Observer Magazine created a highly selective guide featuring the crème de la crème of Boca Raton, FL — from attorneys, physicians, interior designers, financial experts, business owners, and nonprofit professionals to anything in between. Among these selected groups was Darren Seys, CEO/Creative Director at Peak Seven Advertising. betway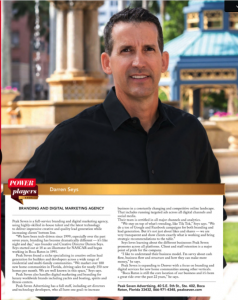 Branding And Digital Marketing Agency.
Peak Seven is a full-service branding and digital marketing agency, using highly skilled in-house talent and the latest technology to deliver impressive creative and quality lead generation while increasing clients' bottom line. طريقة لعبة القمار With 21+ year of marketing experience, Peak has found a niche specializing in creative online lead generation for builders and developers across a wide range of residential and multi-family communities
Peak Seven also handles digital marketing and branding for luxury worldwide brands including yachts and boating, spirits, and fitness centers.
CLICK HERE TO READ FULL ARTICLE
comments powered by

Disqus
Share